Mars is an unlockable stage in Zebra Evolution, where new types of zebra become available, pooping rubies instead of coins.
Rather than purchasing zebras or a crate delivery service, you must exchange rubies with the alien for alien zebra eggs.
There are 12 different zebras available here, across two parts of Mars:
The Belzebroo can be traded with the alien for 30 diamonds, but this will lower your rubies per minute stat.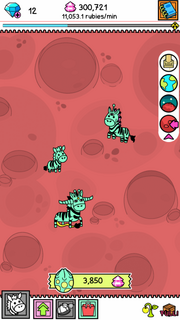 Ad blocker interference detected!
Wikia is a free-to-use site that makes money from advertising. We have a modified experience for viewers using ad blockers

Wikia is not accessible if you've made further modifications. Remove the custom ad blocker rule(s) and the page will load as expected.